Newel Posts
Newels are designed to suit nearly every staircase configuration. Modular construction allows maximum flexibility and is especially useful where conversion or refurbishment work requires that existing newel bases be retained. Newel posts provide the basic strength and structural integrity for each stairway handrail system. All newels, caps and bases are available in halves for wall fitting. Newel posts from 83mm up to 120mm have a 50mm peg size.
The integral base means that the posts can be used both at the top and the bottom of the staircase. Additionally, the posts can be cut to fasten centrally with the first riser, or, with the second riser as with a bull-nosed step etc. Please note that for an additional charge, both , both head and base lengths of the above posts can be adjusted to customers own specifications.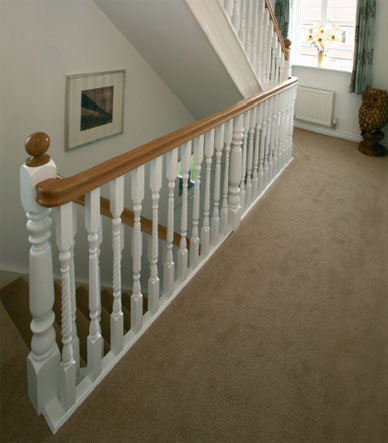 Newel posts typical uses:
PST-1 Opening newel at the bottom of a staircase.
PST-2 Special situations where hand rails meet at different heights.
PST-3 Used on landings, especially where the horizontal landing rail meets an up coming sloping hand rail.
PST-4 Used on the inside corner of quarter landing where the staircase turns through 90 degrees.
PST-5 Used in conjunction with the TRADITIONAL range of continuous hand rail fittings.
PULPIT NEWEL This is a shortened PST-4 and might be required where an up coming hand rail meets the post below the turning, e.g. on the inside corner of a 90° winding turn.